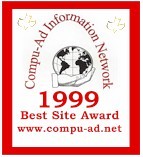 Thank you for spreading the word of God! We decided to give a award  for your site because you are doing a great job on spreading the Word. Please link it back to us! You have two awards on from me and one from my company.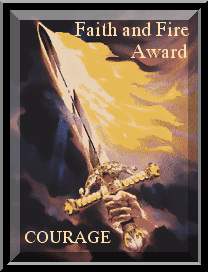 "And they overcame him
by the blood of the Lamb,
and by the word of their testimony."
Revelation 12:11

We are pleased to announce that you have been chosen to receive the Faith and Fire Fellowship Courage Award.

This Award is being given to individuals who have courageously displayed  their Christian Testimonies for the glory of God, regardless of personal cost or embarassment.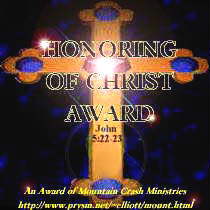 Dearest Sibling, I just wanted to tell you that you have been awarded the   "Honoring of Christ Award" an award given out by Mountain Crash Ministries ( http://www.prysm.net/~elliott/mount.html ) because your site honors Christ in an AwEsOmE way
 Congratulations! Your site was reviewed for the Christian Content Award found on my site, and met all the requirements!

       I enjoyed surfing  your site, and I am sure everybody else will to. You have won the Bronze Award!
    Congratulations! After reviewing your site, we are pleased to present you with the Market-Tek Design Award!
 
 I have reviewed your site. Congratulations!!! You have won the A+ Web  Design Approved award. Your site is well designed and is an interesting addition to the world wide web.

      I have reviewed you site & am pleased to award you with the Coram Deo Award for serving Jesus on the WWW.
Hi there, i've recieved your award submital from award-it.com, and am  really impressed by the overall quality of your website! I'd like to  congratulate  you, and would like to present you with our   PersonalConnections "Innovation Award!" - really great work with your website!
  Hello Adam; Congratulations! Your site qualifies as a Soldier of the Cross Award winner. You may come by the award site and pick up your award graphic and return link. Your site will be listed on our  TOP SITES list this week. (remember to hit reload). We pray that  God will bless you as you witness for Him on the web. Chris Tyler & Phil Goldman

        Hi there, I just got back from visiting your site Adam Lambert's Page and         thought it was great! So... Congratulations!!!! You have been selected to  receive the "Jewel of Excellence Award" award for outstanding excellence  in your web page design. The attached award may be placed on your page  if you so desire, but you are not obligated to in any way. Please wear our award with pride as your page deserves it

     Well, I went to your site and I looked around and I liked it. In fact, I  liked it so much that I have decided to give you this award. You are now  one of the few select people to win my prestigious award.

    Greetings, Adam. It is with pleasure that I forward to you the 'Christian  Faith' award - you wear your heart on your sleeve and the love of Christ  is clearly displayed. You've an awesome testimony to the power of God's  love. Thank you for being so open and conveying the hope that He Is. Keep up the good work! Love in Christ, Caz Dawson
Christians Helping Christians Network Award